Shall I Go On?
Volume I - 2 Party CDs of Vocal Oddities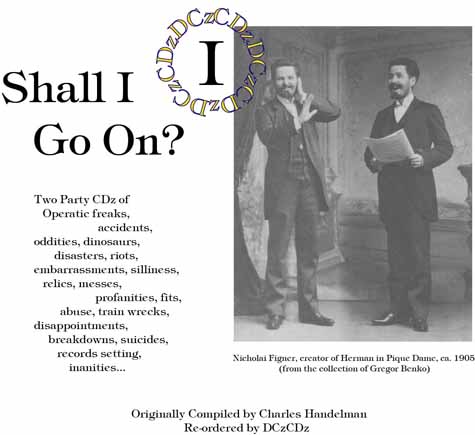 2 CDs / $12

w/o jewel case: w/ jewel case: DATABASE

LISTEN TO EXCERPTS:



Volume I:
CD 1: Adelson e Salvina thru Lucrezia Borgia
CD 2: Luisa Miller thru Die Zauberflöte>
01 ADELSON E SALVINA
Stefan Zucker, "World's Highest Tenor", on September 8, 1972: WQXR program entitled "The Listening Room": an interview with Robert Sherman then an excerpt from the live world-premiere performance of Bellini'sAdelson e Salvina, Town Hall, September 12, 1972.
02 AIDA
Giovanni Martinelli stops the performance during "Celeste Aida" on the February 26, 1938 broadcast (he had food poisoning). Frederick Jagel, listening at home, ran to the theatre to finish the performance.
03 AIDA
Carlo Bergonzi is on the sad side of the high Bb at the end of "Celeste Aida" on February 25, 1967.
04 AIDA
Vassilka Petrova, who recorded at the dawn of the LP era, attempts the role of Aida.
05 AIDA
Montserrat Caballe does not make the high C in "O patria mia" from Aida and voices her frustration.
06 AVE MARIA
From an actual audition tape submitted to the Zurich Opera, Sirach van Bodegraven offers his fractured version of the Bach/Gounod "Ave Maria".

07 AVE MARIA
Marie-Sol Chevalier, la chanteuse à la voix la plus aiguë au monde! I highly recommend listening to the very end of this second verse from Schubert's "Ave Maria"... The key is C Major - you do the math.

08 BALLO
Michele Molese comments on Harold Schoenberg's review of his "pinched" high C during Un ballo in maschera performance of November 1, 1974 with Marisa Galvany as Amelia. He was fired the next day.
09 BASSO PROFUNDO
Be sure you listen to the end of this excerpt of Russian liturgical chant and hear a low G below the staff.
10 BOHEME
The son of Enrico Caruso sings "Che gelida manina"from La boheme.
11 CARMEN
Rise Stevens orders Giuseppe di Stefano: "Put my arm down!" during a particularly heated Carmen broadcast on January, 21, 1956. He broke it!
12 CARMEN
Regina Resnik leaves no doubt in the listener's ear as to when her Carmen receives the blade of the Don José of Richard Tucker. The performance date is March 12, 1969.
13 CAVALLERIA
Cavalleria rusticana "Siciliana" sung by Emanuele Bucalo in the style of Donald Duck, or is it a cat? Anyway, it dates from ca. 1905.
14 CAVALLERIA
During an early 1970s Munich Cavalleria, no one could be found to emit the final line "Hanno ammazzato compare Turiddu" that pleased director Giancarlo del Monaco. Former-Santuzza-(with del Monaco Sr.)-turned-Mama Lucia, Astrid Varnay, said "I could do it, but I can't, because I'm on stage." and then del Monaco said "But why not...." The word "compare" was dropped and Varnay was directed to look offstage and moan (not scream) the line, clutching her abdomen in memory of her birth pains. Leonie Rysanek, as Santuzza, repeats the same line.

12 COMPANY
"You could Drive a Person Crazy" from Sondheim's Company: Eileen Farrell, Marilyn Horne and Carol Burnett from a 1960's Carol Burnett show.
16 CONTES D'HOFFMANN
Soprano Susi Sommers interpolates high Ab above high C into the Doll Song from Les contes d'Hoffmann. Normally heard in just the ending, I include here the entire second verse.
17 CRUCIFIXUS
Alessandro Moreschi, the last living castrato (1858-1922): "Crucifixus" (Rossini).
18 DON GIOVANNI
Elinor Ross "chickens out" during Donna Anna's aria from Don Giovanni during a broadcast.
19 ENTFÜHRUNG
Alexandra Deshorties (an actual card-carrying witch) screams her way through the allegro from "Ach, ich liebte" from Die Entf¸hrung as dem Serail. This is the singing that the opera house would not allow to be booed at.
20 FAUST
Renata Tebaldi gets a bit carried away at Valentin's death at a Naples Faust performance.
21 FILLE DU RÉGIMENT
Stefan Zucker, dedicates the aria "Ah mes amis" from La fille du régiment to Luciano Pavarotti.
22 FLEDERMAUS
Martina Arroyo attempts a high D at the end of the Czardas from Die Fledermaus.
23 FRÜHLINGSTIMMEN
Johann Strauss' "Frühlingsstimmen" laboriously sung by an aging soprano from Hamburg for an audition tape. After a false start, she adroitly moves her voice through the roulades.
24 GIOCONDA
Renata Scotto, age 12 (1948): "Voce di donna" from La gioconda.
25 LAKME
Beverly Sills at the age of 12 - probably a test recording.
26 LAUGHING SONG
An excerpt from "The Geisha" of N. Lambelt as sung by Paola Novikova, a teacher of Nicolai Gedda.
27 LUCIA
Lucia di Lammermoor, Act II duet, December 8, 1956 with Maria Callas and Enzo Sordello. Due to a miscommunication between pit and stage, Sordello decided to take the rein and leaving Callas somewhat in the dust.

It's assumed she asked Bing to get rid of him; Bing said no; Callas then cancelled her next Lucia. It was reported that Callas' father, upon hearing of his daughter's cancellation, stationed himself in the Met lobby and lobbied the patrons to demand refunds. He was eventually asked to leave and Dolores Wilsonm gave a fine performance.

Sordello then found out this was his Met farewell and Callas returned.

28 LUCIA
La Scala booing during Lucia di Lammermoor: Tiziana Fabbricini, 1992.
29 LUCREZIA
Hugeutte Tourangeau commits a glottal assault attack on a high C during the 2nd verse of the Brindisi from Lucrezia Borgia, Houston, April 8, 1975.
CD 2:
Luisa Miller thru Die Zauberflöte

01 LUISA MILLER Claude Francois Etienne, a well-known hater of Renata Scotto, screams out "Brava Maria Callas, soprano assoluta!" as Renata Scotto begins her aria from Luisa Miller, broadcast of 1979. 02 MADAMA BUTTERFLY Maria Callas (a.k.a. Nina Forresti), age 12: "Un bel di" from Madama Butterfly in a radio performance on Major Bowe's Talent Show under the name of Nina Forresti on April 7, 1935. 03 MARTHA Ruby Helder, female tenor, sings "M'appari" from Martha. 04 MIGNON A precocious Julie Andrews demonstrates her vocal abilities at the ripe age of 12 in the Polonaise from Mignon. 05 O HOLY NIGHT A member of the congregation from the Calvary Chapel of Louisa (Mineral, VA) gives a stirring rendition of Adam's "O Holy Night". His range is especially impressive, not to mention his fervor. 06 PAGLIACCI A performance from Italian television by Anna Moffo of the Ballatella from Pagliacci. Late in her career and making judicious cuts. 07 PAGLIACCI From a February 29, 1936 broadcast of Pagliacci, Giovanni martinelli delivers a riveting performance along with his over-the-top Nedda, Queena Mario. Does she actually sing D#s and E naturals al petto? 08 PECHEURS Tenor Larry Costa attempts the aria from Les pêcheurs de perles. 09 PERICHOLE Paola Novikova infectuously sings the aria "Ah quel diner" from La perichole. 10 PURITANI Enrico Di Giuseppe attempts a high F in a New York City Opera performance of I Puritani, March 8, 1975. 11 PURITANI On March 13, 1982, John Aler made his (rather successful) single attempt at the high F in I Puritani at the New York City Opera. 12 QUEEN OF SHEBA It's the trill that keeps on trilling. Selma Kurz oscillates for 17 seconds in an aria from Goldmark's The Queen of Sheba. 13 RIGOLETTO Portugese soprano Natalia de Andrade apparently specialized in singing the role of Massenet's Manon: There are many excerpts on her LP as well as arias from Rigoletto, Il trovatore, La forza del destino and Un ballo in maschera. Every one of them is sung larghissimo. Her approach to a high B natural in Caro nome is worth the wait. For information about an entire CD devoted to this soprano, go to Manon and Other Heroines. 14 RIGOLETTO Nicolai Gedda in a rare mishap during a live Rigoletto. 12 SAMSON ET DALILAH Rita Gorr stops a dress rehearsal of Samson et Dalila in Dallas to admonish Mario del Monaco for being out of costume. 16 SHEET SONG The Sheet Song, sung by Earl Wrightson imitating Ezio Pinza, accompanied by a pickup string quartet. The lyrics are hidden in his accent.

From Josef Durchstecher:

Oh, it exists all right, but there is some question as to whether or not it is actually Pinza singing. Eddie Smith put it out years ago on his UORC label, attributing it to Ezio and giving a 1943 date for it. However, it has also been attributed to Earl Wrightson, who apparently did a dead-on imitation of Pinza for anyone who would listen. I would opt for Pinza himself, because I can't imagine that Wrightson (or anyone else) could imitate him THAT well; if he could, he could have made his own career as one of the great bassos, and wouldn't have had to end up doing duets with Lois Hunt on Garry Moore's old afternoon TV show. In any case, the Budapest Quartet (if, indeed, it IS the Budapest Quartet) does a long introduction as well as a postlude, which is exceedingly well-played. Whatever its provenance, it sure as hell wasn't an audition record for Rodgers and Hammerstein as 1) I truly doubt that Pinza would have had to audition for the role via a record and they could already hear samples of his English on both records and the radio, 2) although Pinza was famously capable of doing some low-down things, I doubt he would have wanted this particulary selection as part of his recorded posterity, 3) since he also supposedly wrote the lyrics, it presupposes a knowledge of English beyond that which he probably enjoyed at the time, and 4) Richard Rodgers was not exactly famous for his sense of humor! Anyhow, now you know! 17 TOSCA The January 6, 1957 performance of Tosca was one of those afternoons when everyone was "on." Listen to the final pages of the opera with Tebaldi's special interpolation then the postlude wuth the utmost of dramatic intensity. 18 TOSCA What must be the highest note ever sung in chest: A Mexico City Tosca performance with Maria Callas. The D natural before the final high Bb is the note, albeit brief - it's on pitch and definitely not head voice. 19 TRAVIATA During the brief choral section just before "Sempre libera" from La traviata, the chorus gets behind the beat and all is syncopation chaos. 20 TRAVIATA An insane woman in the audience at the New York City Opera production of La traviata (debut of Ashley Putnam) lets out a primal scream during tenor Henry Price's scene in Act II. Some say she was planted to distract Mr. Price and some say she saw blood all over her blouse after having had dental work. 21 TRAVIATA Via a close source: Riccardo Muti was having lunch with a retired opera singer during a break in recording sessions for La traviata. The maestro complained that the singer contracted to sing the single line "La cena e pronta" during the gambling scene in Act II, could not get it right to save his life - he was late, sharp, flat, early and utterly incapable. Then, his guest offered to sing the difficult six-syllable role for him and agreed not to receive credit on the commercial release. If you hear it without knowing who it is, it's hard to guess. But if you know it's Giuseppe di Stefano, it becomes immediately obvious.
22 TRAVIATA Montserrat Caballe faints halfway through "Addio del passato" during a performance of La traviata in Paris, 1972. 23 TRISTAN Jon Vickers, during a December 1975 Dallas performance of Tristan und Isolde, tells the audience what he thinks of their coughing. 24 TRISTAN The voice of Elisabeth Schwarzkopf supplied high C's in the Furtw"ngler recording of Tristan und Isolde. 25 TROVATORE Franco Bonisolli calls for "Wasser!" (water) in the middle of his aria, "Di quella pira", from a 1987 Hamburg performance of Il trovatore. 26 TROVATORE This recording dates from 1909. All we know is what is written on the disc: Trovatore di cani (Trovatore of dogs). It is highly suspect as to which gender the Leonora is (bitch or male). 27 TURANDOT After being notified that Montserrat Caballe has cancelled her performance of Turandot, conductor Zubin Mehta makes the announcement to the audience himself and audience reaction is violent (May 16, 1976). 28 TURANDOT Giovanni Martinelli, age 82, in a Seattle Turandot, February 4, 1967, in the role of Emperor Altoum. 29 TURANDOT Turandot: finale of "In questa reggia" as sung by the prima donna of the Grand Scena Opera Company, Mme. Vera Galupe-Borszkh. 30 WALKÜRE As an experiment, Birgit Nilsson was asked to record a brief excerpt from "Du bist der Lenz" from Die Walküre. On an Opera Quiz, the panelists (Max de Schawnsee, Irving Kolodin and Winthrop Sargeant) were stumped as to who it was, one recommending that the un-named soprano give it up. Here are the notes from Mike Richter's site:

In 1966, Birgit Nilsson saw a photograph of a "golden age" singer (Felia Litvinne?) making a phonograph record by singing into a horn. I don't know the precise sequence of events, but Geraldine Souvaine, producer of the opera quiz, thought it would be neat to record Nilsson this way, play the record for the experts on the opera quiz, and ask them to guess the name of the artist. She contacted someone at RCA , asking how it might be done. That person called Gregor Benko of the International Piano Library. He called collector Alton F. R. Lawrence; and he called me.

They sent a car into which I loaded my Edison phonograph, several wax cylinder blanks, a morning-glory horn, and a bird-cage stand, and off we went to Souvaine's apartment on Central Park West. The equipment was placed on a folding snack table, a suitable height achieved by stacking telephone books.

Nilsson arrived with her accompanist and sang something from Walküre into the horn. We did it twice more and when she started to object ("I didn't think I would have to sing so much"), decided to go for a proper take. We made two cylinders. To do it properly with that equipment one should move back on high or loud passsages. She moved forward. My friend Larry (Lawrence) tried to pull her back, but she wouldn't budge. (I don't think she appreciated being grabbed around the waist by a stranger, either --- certainly not while singing.)

Photos were taken and I believe that one or two have been published. I know that they are on file at the opera's archive at Lincoln Center. I show up in some as the "recording engineer". I look like Pee Wee Herman. I requested $250 as a fee. Souvaine explained that they would have to bump a critic from the show if they paid me that much. They bumped the critic. We taped the cylinder and I left with the originals. When they heard the cylinders that Saturday the remaining critics had nothing kind to say about the soprano whose name they were asked to guess. When told who it was, they were not pleased.

I sold the better of the cylinders to Ward Marston about two years ago. It will end up on a CD eventually. I still have the other.


31 WALKÜRE
Lauritz Melchior holds "Wälse!" 22 seconds during a 1940 Die Walküre broadcast.
32 ZAUBERFLÖTE
An amazing "Queen of the Night" (Die Zauberflöte): Maria Galvany sings with incredible staccati and over-the-top interpolations, a recording dating from about 1903.
US CUSTOMERS ONLY

DCzCDz Website

Contact DCzCDz