Shall I Go On?
Volume III - 2 Party CDs of Vocal Oddities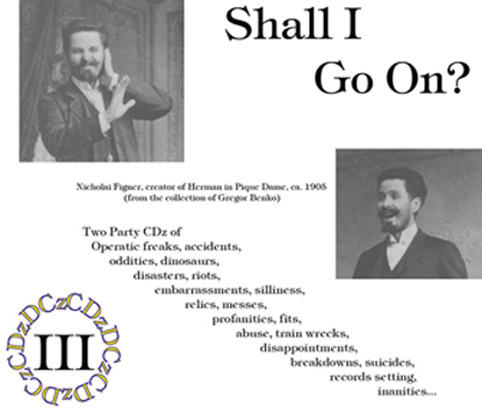 2 CDs / $12

w/o jewel case: w/ jewel case: DATABASE

LISTEN TO EXCERPTS:




Volume III
CD 1: Aida thru Information Please
CD 2: Kill de Wabbitt thru Die Walküre
01 AIDA
From a 1959 broadcast, the brass were absolutely and perfectly off during the last measure of the Triumphal Scene. 02 AT THE MET A clever song from the 1951 review "Two on the Aisle" by Jule Styne and words by Betty Comden and Adolph Green. 03 ATTILA Sherrill Milnes really shows off with his top range at the end of the second verse of "E gettata la mia sorte" and nails a high Bb. 04 BACIO Leona Anderson KNEW she'd lost her vocalism and cashed in on it in the early 1950s. Ernie Kovacs discovered her then she made her famous LP "Music To Suffer By". Here, she sings Arditi's "Il Bacio". It's amazing how low the energy plummets when she starts singing. 05 BALLO Sylvia Sawyer participated in only three recordings, one of which is Un Ballo in maschera. Her Ulrica is REAL spooky, especially "Nulla, più nulla ascondersi." 06 BARBIERE The Largo is a walk in the park for tenor robusto Mario del Monaco. Signor doesn't pay much attention to the printed score but delivers all high notes. 07 BARBIERE According to her CD liner notes, she is an emerging star, conquering all genres of music. Rosemary is her name and Una voce poco fa is her game. And it's definitely a roller coaster ride. She is equally and expertly accompanied by her teacher and mentor, Dr. Thomas Blobner. 08 BARBIERE After a stupendous performance of "Tanti affetti" from La Donna del Lago in the Lesson Scene, Marilyn Horne receives three ovations (1 big, 2 medium), the second prompted by Enrico di Giuseppe and the third by Fernando Corena. The date is February 20, 1971. 09 BOHEME There used to be a little club in Italy called "L'Incompreso" (The Misunderstood) where opera lovers (not opera singers) got together and sang for each other. There are four excerpts from one of these evenings throughout Volume III of Shall I Go On? This first example shows a member that can't match pitch and has no high notes. Pity the pianist. 10 BOHEME Giacomo Aragall doesn't have nice time with the high C in "Che gelida manina." 11 BOHEME In her soprano days (Nedda, Marie) Marilyn Horne sang Musetta in a San Francisco production. 12 BOLENA Montserrat Caballe makes a bad decision in this live February 21, 1982 La Scala performance. 13 CARMEN What is now known as one of the finest recordings of Il trovatore ever made, the cast of this Carmen performance consisted of Barbieri, Pobbe, del Monaco and Bastianini. And Loretta de Lelio (later Mrs. Corelli)sang Frasquita. You'll hear the beginning of the Card Scene in awful sound. 14 CAVALLERIA A bad decision of Nell Rankin's to interpolate a high C at the end of this Santuzza/Alfio duet with Walter Cassel. 12 CHENIER I guess the tenor in this Act II love duet couldn't handle the rubati. 16 CHENIER The aria "Come un bel di di maggio" does not worry the son of Peter Anders. He is very proficient at scooping and "hook 'n go" methods. 17 CHIRIBIRIBIN Erna Sack, in this excerpt from the popular Italian song "Chiribiribin", demonstrates her upper extension to the point that it's almost inaudible; it eventually becomes audible. You may have to turn up your volume at first to hear the high Gb. 18 COSI Blanche Thebom gets lost near the end of her aria "Smanie implacabile" (sung in English) during this 1952 broadcast premiere of Cosi. 19 DON GIOVANNI Margaret Truman sings "Batti, batti" from Don Giovanni. A pleasant-enough soprano whose fame is most likely because of a negative review written by Paul Hume. A response by Margaret's Daddy expressed desire to do physical harm to the critic. 20 ERLKÖNIG The incredible virtuoso group called The Swingle Singers sing this Schubert lied with such accuracy of pitch and clarity. The arranger of this deserves equal praise. 21 ERLKÖNIG A very different take on the early Schubert song by a certain tenor named Josef Durchstecher. The words "over the top" are lame. 22 FADO PORTUGUESE Maria Galvany exhibits her amazing and unique ability at singing "les notes piques" in this excerpt from the folk song "Ouvi Dizar" by Neuparth.23 FARINELLI Talk about sick. Cecilia Bartoli sings this aria written by the brother of Farinelli with a text that talks about being lost at sea. There are vowels here that I myself have never heard before... I also point out Bartoli's ray-gun effect at the repeat. 24 FIDELIO Erika Sunnegårdh made her debut on the Fidelio broadcast of April 1, 2006. She has a small memory lapse (which probably, in her mind, felt like minutes) but she gets back on track and finishes the performance with acclaim. 25 FLEDERMAUS Marilyn Mims just barely squeaks out the high D at the end of the Czardas. 26 FORZA It happens to the best of 'em. Mme. Milanov sings a sumptuous "Pace, pace mio Dio" during this 1956 broadcast, but in the middle of it, her pitch begins to sag. And the harpist brutally points this out. 27 HAPPY BIRTHDAY From station OPERA, Salvatore Baccaloni, Rise Stevens and Bidu Sayao attempt to create a unique birthday greeting for President Roosevelt. Erich Leinsdorf settles it all and they sing the traditional version in this 1943 broadcast. 28 HEIDENRÖSLEIN From the 1933 movie "The Song of Songs" is the Schubert lied "Heidenröslein" unpassionately sung by Marlene Dietrich. 29 HOW CAN I GO ON? Freddie Mercury and Montserrat Caballe shared a special affection for each other. They performed together and this is one of their selections. 30 INFORMATION PLEASE We've all heard Milton Cross speak but he sings during this episode of "Information, Please" radio show. The host is Clifton Fadiman and the panelists are John Curran, Franklin P. Adams, Sigmund Spaeth and Basil Rathbone.


CD 2:

01 KILL DE WABBIT Bugs Bunny and Elmer Fudd do their rendition of Wagner's Ring. 02 LA LUNE BLANCHE Hugues Cuenod demonstrates a great talent with economy of the breath in this, the third song from Fauré's La bonne chanson. Listen for the endless phrase that begins with "Un vaste et tendre apaisemtn...". 03 LOMBARDI A member of L'Incompreso gets through "La mia letizia infondere" from I Lombardi 04 LOHENGRIN Allergies strike again during this 2006 broadcast of Lohengrin. The "legendary" Ben Heppner doesn't let this distract him. 05 LUCIA The young Jose Carreras sings Arturo in a 1970 Bilbao production that included Deutekom and Kraus. 06 LUCIA This was Lily Pons' final complete opera broadcast and her final note of the afternnon. Performing the Mad Scene in F wasn't exactly a good idea. 07 LUCIA Mado Robin, billed as the stratospheric coloratura (Marie-Sol Chevalier topped her later) sings a high Bb above high C in this live performance of the Mad Scene. 08 MARTHA Sing along with Caruso! Luisa Tetrazzini joins Caruso at the end of "M'appari". Her giggle at the end is infectious. 09 NIGHT & DAY Aksel Schöltz croons this Sinatra favorite. 10 O, GIANNI O One of Alec Templeton's delicious creations: a one-act opera La storia di Giovanni. Mr. Templeton is the voice of everyone in the show. This track has never been available to the public until now. 11 PAGLIACCI Lawrence O'Neil sings this full-of-meaning translation of "Vesti la giubba." I'll bet you've never heard this as a love song, have you? And the 1970s rock orchestration is worth noting. 12 NON HO L'ETA What must be some peasant woman sings an Italian song, "Non ho l'eta (translated as I'm not old enough) at L'Incompreso. Don't forget: only the love must show. 13 NORMA What's there to say? The greatest singers of the twentieth century onstage together and interacting. This happened in 1952 at Covent Garden when Maria Callas sang Norma and Joan Sutherland sang Clothilde.14 NOZZE Frederica von Stade sings a rather different translation of "Voi che sapete". The subject is cats and the title is"Oy Chuck and Katie". 12 PURITANI This time it's the soprano that fails in this brief un-named excerpt from the love duet. 16 PURITANI Teresa Stitch-Randall ornaments beyond recognition and sings uncomfortably fast the cabaletta "Vien, diletto." 17 RIGOLETTO A tenor from "L'Incompreso" struggles - bless his heart -with "Questa o quella". It's amazing that just about every one of his entrances is about a measure late. The approach and final Ab is worth the wait. 18 RIGOLETTO 12-year-old Beverly Sills delightfully sings "Caro nome." 19 RIGOLETTO Nicolai Gedda, Joan Sutherland, Mildred Miller and Tito Gobbi speak the lines from the Rigoletto Quartet, demonstrating the four different lines of action.
20 RIGOLETTO
Giuseppe di Stefano gets real sloppy in this excerpt.
21 SEPARATED AT BIRTH
Mozart inspired himself by the music from a Cosi recitative in writing Tamino's aria from Flute.
22 SEPARATED AT BIRTH
Who knew that Verdi predicted in his Trovatore the Carmen of Bizet?
23 STAR-SPANGLED BANNER
This policeman didn't know the words, the tune and basically didn't know how to sing the National Anthem
24 STITICHEZZA
In this "Grande duetto tragico" Giuseppe Valdengo and Cesare Siepi switch their Rigoletto roles and change the words with constipated effect.
25 TESEO RICONOSCIUTO
In this excerpt from a Spontini rarity, Sonia Visentin demonstrates agile coloratura. Countless high Cs a few high Es and Fs and one high G.
26 TOSCA
Combining two examples of the fact ("they" say) that Leonard Warren never really learned the role of Scarpia. The first, from a 1958 broadcast with Antonietta Stella, Warren mumbles words he's forgotten ("Ed or fra noi da buoni...") and gets the last one: "amici." The second example, from 1957 is an interchange between Warren's Scarpia and Renata Tebaldi's Tosca. Warren steps on her line with his "Portatelo..." and then he corrects it by singing it again.
27 TRAVIATA
This is the place for the Alfredo to show off his high C (provided he has one) as Fritz Wunderlich serenades Teresa Stratas from this legendary March 28, 1965 Munich performance.
28 TRAVIATA
Marie Green, a singer who dubbed and voice-overed her way through Hollywood in the '30s and 40s, sings her delectable version of "Sempre libera" with a male backup group.
P.S. She transposes the thing up to A natural.
29 TRAVIATA
Excerpts from a March 17, 1983 Genova performance of Traviata. Domingo was originally announced, then Krause. The role of Alfredo ended up being sung by tenor Lamberto Furlan, whose pitch ability is not liked by the audience. The show eventually stops altogether and another tenor is brought on, but he is disliked even more. Joan Sutherland is the Violetta. Apparently, the performance never finished.
30 TURANDOT
Aretha Franklin gets down 'n dirty when she replaced the Pav.
31 WALKÜRE
Baritone Richard Bonelli recorded the Winterstürme late in his life but this pupil of de Reszke still had the goods.
32 WALKÜRE
Timothy Jenkins doesn't have enough left at the end of Act I of Die Walküre.
US CUSTOMERS ONLY

DCzCDz Website

Contact DCzCDz